Albion Caulk Guns
By Deb Amorde
Albion Engineering offers the largest selection of caulk guns and accessories in the industry. These guns are designed for durability, dependability and efficiency. This means when you buy an Albion gun it's going to work well and stay with you through the long haul.
"I've owned a lot of crappy caulk guns over the years. This one is a keeper." REVIEW BY MICHAEL PINARELLO
Ablion guns are available in four main categories – bulk, sausage, cartridge and multicomponent. Each category of gun is also available in three dispensing options – manual, cordless and air-powered. 
Bulk Guns
Bulk guns are built to withstand the serious demands of professionals and come in more than 100 product options. These units have rugged, heavy-duty all steel drives and solvent-resistant leather pistons to reliably dispense a wide range of materials.
If you're looking for an economical approach with minimal waste in getting the job done then these 20oz sausages are an excellent option. With more than 50 models to choose from, you'll definitely find something that works well for your project.
Multicomponent
Multi-component guns dispense 2K epoxies and adhesives efficiently and in the correct proportions. Check out this chart to determine the model meets your needs.
Cartridge
Last but not least is cartridge guns. With more than 50 options how do you choose the product that'll work best? The chart below is a great place to start.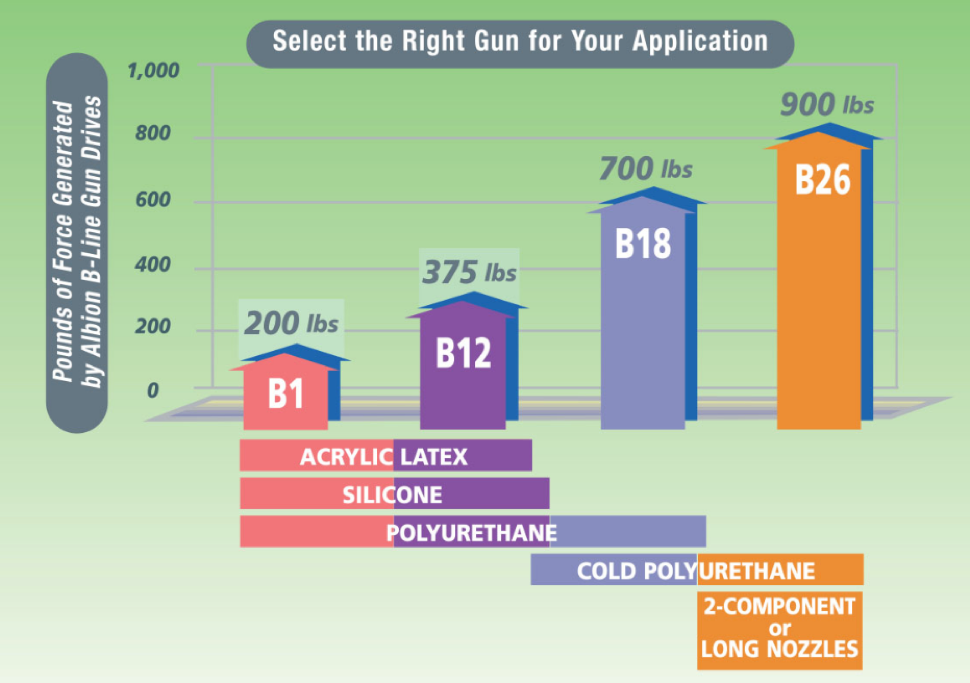 The B12 is probably the most popular model in this category as it puts out 375 pounds of force and can be used with acrylic, latex, silicone, and polyurethane. It's also a great choice since you can buy spare parts should you need them. To get this product click here for online orders or call your sales representative for on-site delivery.
---