3M Fire Retardant Products
By Holly Kirkwood and Joe Kirkwood
Most people don't know or understand all that goes into building or structure construction planning. It's a tedious process that requires many checks and balances. One of the biggest factors that people overlook is abiding by the fire-retardant laws. These laws are put into place to help contain smoke and fire within structural fires. Meaning special precautions are put into place via mandatory product implementation to help slow the spread of fires.
3M has created a plethora of products to help contractors easily abide by these laws. Whether you are building a twenty-story building or installing pipe in a small area, 3M has the best products to help slow down the spread in case of a fire. These products have certain components and use to meet specific needs and builds. Incorrect installation and use of these products happen far too often, so it's important to pay attention to these processes in order to, well, save lives!
We're in the construction industry and understand the importance of these products. We've seen a lot of these products fly off the shelves and have detailed their specifications below to help you, the contractor, get a better idea of each of their uses and the importance of these products. Since there are so many products, we've listed out our top four.
CP 25WB+
CP 25WB+ is a fire barrier sealant most commonly used in mechanical, electrical, and plumbing applications. These jobs create openings or penetrations in flooring, floors, and ceilings, and walls with piping, cables, and HVAC ducts, to name a few. An important factor to note is that it cannot be used on CPVC Pipe, only on PVC. In the event of a fire, these openings can allow the fire to spread more rapidly through the building, but also on the wiring or cables itself. CP 25WB+ is a "latex-based, intumescent sealant that dries to form a monolithic firestop seal that also acts as a barrier to airborne sound transmission (3M Product Sheet)." Meaning that the sealant expands and slows the spread fires up to 4 hours! It requires no mixing and is fast drying, within 10-15 minutes.
These photos help better understand the placement of CP 25WB+ and it's uses: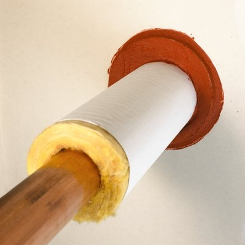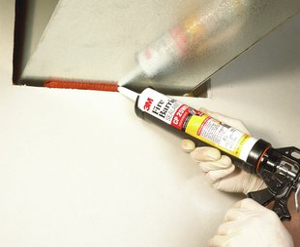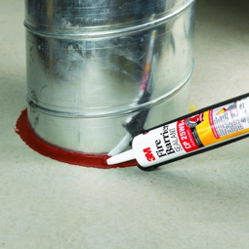 FD 150+
3M refers to FD 150+ as the "economical alternative to the costly fire-stopping application (Data Sheet)." FD 150+ sealant is used for metal pipes or cables that are strung through concrete or gypsum. Just like the CP 25WB+ sealant, FD 150+ slows the spread of fire, smoke, and noxious gases before, during and after fire exposure. It's been tested to slow fires up to 3 hours. FD 105+ comes in blue color but can easily be painted over to match its surroundings. The paint will not affect its durability.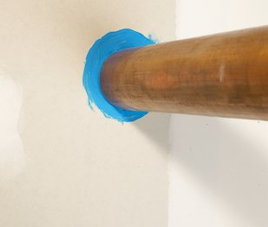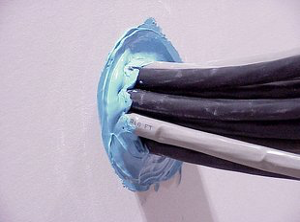 Smoke Sound Tape SST
Smoke Sound Tape (SST) is used to conceal smoke and sound for all construction joints. It's best applied to penetration applications in the non-fire-rated wall and floor assemblies. It comes in a variety of sizes making applications easy for all holes, cuts, and partitions. Not only does this product eliminate the spread of smoke but also sound between rooms and floors. It is versatile because it can be adhered to damp surfaces and in a broad range of temperatures. Its adhesive backside adheres to the most common building materials. You can reference here to see what systems and processes it is best used for.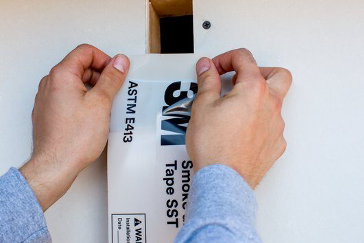 Fire and Water Barrier Tape FWBT
Similar to the SST tape, fire and water barrier tape (FWBT) is used for protection against fire, water, and smoke for construction perimeter joints, like curtain wall joints. Unlike the SST, it should be used on drier surfaces. However, it has stronger protection against water (meeting the UL Water Leakage Test). FWBT can also adhere to the most common building materials. These tapes are meant for fast installation, mess-free, and a flexible fit. The beauty of these tapes is that no installation tools are needed, just your hands. You can find a list here on where these tapes are best used.
There will always be fire retardant laws to abide by. Products are constantly changing and improving to keep everyone safe from the rapid spread of fire. It's important that general contractors know these rules and the products that abide by these rules for the safety of those entering the structures. 3M does an incredible job of designing products that can meet your every need. Learn more at www.Outpostcs.com and let us stock you with the products needed for your next fire-retardant project!
---