Floor Protection: Masonite vs. Carpet Mask vs. Builder Board
By Nick Rollo
Masonite Vs. Carpet Mask Vs. Builder Board
Floor protection is extremely important when any construction project is nearing completion. There are many different types of flooring such as carpet, hardwood, tile, laminate, etc. There are also many different types of floor protection. The most commonly used are Masonite, Carpet Mask, and Builder Board. It is important to know and understand what floor protection option is best for your type of floor.

Masonite:
• Engineered hardwood board made of steam cooked and pressure-molded wood fillers.
• 4'x8' sheets, 1/8" or 1/4" thick.
• Strongest floor protection on the market.
• Protects against spills, heavy foot traffic, and dropped tools
• Works on all different types of flooring.
Masonite is a great option for large scale projects with high traffic areas and lots of moving around. The sheets can be taped together with Duct Tape or any high strength adhesive tape to prevent shifting. Masonite is great for moving large items with a dolly or hand truck. Its strong wood thickness allows maximum protection. While it can be the priciest option when it comes to floor protection, it's also the strongest and most durable.
    

Carpet Mask:
• High strength puncture resistant poly.
• Rolls of 24"x200' to 48"x500' with sizes in between.
• Easy to apply by hand or with an applicator.
• Easy to remove and leaves no residue.
• Protects against spills, dirt and heavy foot traffic.
• Forms a tight bond with most carpets (Not Wool).
Carpet Mask is another resourceful option when choosing floor protection. While you are limited to using it only for carpet, its non-skid film offers long term protection during a construction project. Carpet Mask is great for carpeted staircases and can be applied with an applicator for faster application. This product should never be used on hardwood floors, wool carpet, ceramic tiles or laminate flooring. This product is typically in the middle price range when it comes to carpet protection and provides excellent durability.
      

Builder Board:
• Rolls out flat for easy application.
• Rolls of 38"x100'.
• Protects against spills, dirt, and mud.
• Works on all different types of flooring.
• Typically made out of 100% recycled materials.
Builder Board is commonly used on construction projects as floor protection because of its quick installation process, affordable cost and ability to work on all types of flooring surfaces. It's perfect for temporary coverage because it rolls out flat and can be taped together to connect multiple sheets. This heavy-duty roll is spill resistant and can be recycled when done using.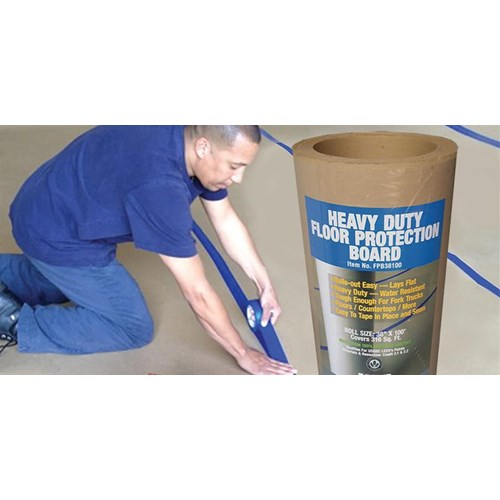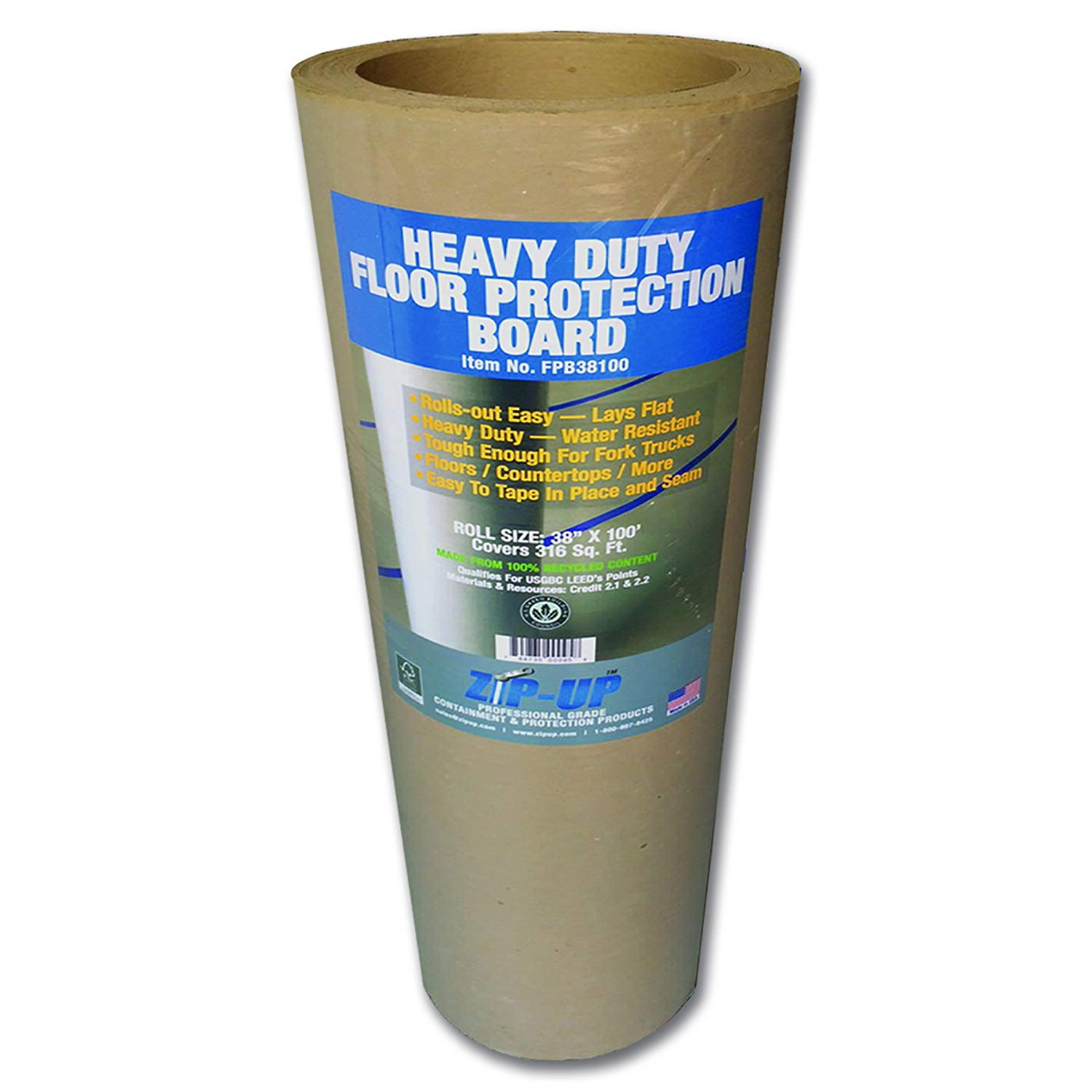 With all these options for flooring protection, it's best to understand the products first, then see what option fits the floor you're trying to protect. Also factor in how much traffic the floor will see and the duration of protection.
---