Quikrete DOT Extended
By Holly Kirkwood and Joe Kirkwood
Let's talk concrete patching and repair.
Roads, runways, and bridges need to be repaired quite often due to weather and the aftermath of storms. These structures are built with concrete, but even concrete needs occasional attention from excessive use and foul weather. After big snow storms, often times you will see pot holes that can be damaging to vehicles. Roads and concrete structures endure the freeze-thaw cycles that create these potholes. Potholes are caused by water seeping through cracks in concrete brought on from wear and tear. The cold temperatures freeze the liquids below the surface causing it to expand and crack. Such circumstances are hard to avoid and require a quick and simple solution spalling in concrete.
Our solution? Quikrete DOT Extended.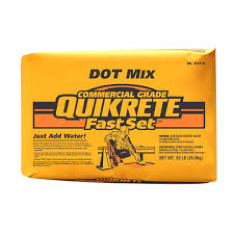 What is it?
Quikrete DOT extended is a concrete patching material approved by the Department of Transportation (DOT). To put it in Quikrete's terms, "Quikrete DOT Mix is a fiber reinforced, rapid-setting repair material for a high-performance repair (Quikrete.com)." The aggregate is already mixed in so users can just add water and mix. Depending on the size of the job, contractors can mix in a bucket, wheelbarrow, or standard concrete mortar mixer.
Application
When the mix is ready, start pouring quickly and continuously, using light rodding to eliminate bubbles. When the mixture is poured completely, it is best to smooth out, getting rid of all air pockets, then strike off and float immediately. For best results, do not overwork the material. Depending on the job, you can finish it off with a cure. We suggest WR Meadows water-based cure or their white pigmented wax based cure, depending on your application. The beauty of this product is that cars, planes, or any other heavy traffic can make contact in 40 minutes, reducing closure times. On busy city highways or money making runways, this time savings is a massive financial saving for municipalities in charge of operations.

Comparison
Quikrete DOT Extended is often compared to Sika 2500. The difference being cost, accessibility, and customer service. Issues such as potholes need to be resolved fast! In our experience working with some of Quikrete competitors, supplies have been low and the demand high making it difficult for us to receive products for as long as a month. When airport or highway jobs are burning through multiple semi loads per week, this delay can be extremely costly. Quikrete is spread across the nation with manufacturing in multiple locations, so it's quick and easy to get product to your job site. Generally, Quikrete products meet the same specifications but are priced lower than competitors.
At Outpost, we highly recommended the Quikrete FastSet DOT Extended mix. We took part in its approval at the Denver International Airport. A member of our team worked closely with Interstate Highway Construction, providing them with alternative options. However, after multiple tests with multiple entities on site, all parties found that none compared the efficiency and effectiveness of Quikrete's product
When you're looking for the best bang for your buck in DOT concrete repair, you'd be hard pressed to find a product more effective than Quikrete FastSet DOT Extend.
Sources: "FastSet™ DOT Mix." QUIKRETE, www.quikrete.com/productlines/fastsetdotmixpro.a
---