Scaf-Lite
By Joe Kirkwood and Holly Kirkwood
Scaf-lite is a necessity on every job site when it comes to inclement weather. It is specifically designed to fit over Scaffolding. Simply put, Scaf-lite is premium grade string reinforced poly sheeting manufactured with reinforced eyelet bands (eagleind.com) that drastically improve the safety of the installation process. It adds a layer of protection to job sites from snow, rain, and winds as well as containment for any changes to interior climate, like heat in the winter. Using heaters in winter in conjunction with Scaf-lite makes it easy for job sites to continue uninterrupted by the snow and freezing temperatures. Scaf-lite takes little effort to put up and is well worth the installation labor to save on delays and interruptions on your job site.
Scaf-lite comes in 6 mil and 12 mil, 12 mil being a little thicker. As you prepare for your job site, engineers take the weather conditions of the job site into consideration. 12 mil is more efficient at keeping what you want in, in and what you want out, out. Scaf-lite comes in a variety of sizes as well as Non-Flame Retardant and Flame Retardant. Both serving important purposes.
Flame retardant may be used in areas with drier conditions or more fire-prone areas. This could be based on your geographic area, specs, or what's taking place on your jobsite. Flame retardant is meant to prevent fires from starting or slow the spread of fires. Non-Flame Retardant Scaf-lite is used in areas and work spaces with lower fire hazards. Be sure to check your specs before ordering, one way or the other.
ApplicationIt's very simple! Eagle Industries has made Scaf-Lite easy to install with their reinforced eyelet bands design. The eyelet bands are laminated to make it easy to push the bungees through with the pointed end, yet sturdy enough to hold the added pressure points. Once pushed through, the toggle end wrap ties back to the elastic cord and secures it in place. Using bungews is the safest and most secure method for installation and security. Check out this two-minute installation video here.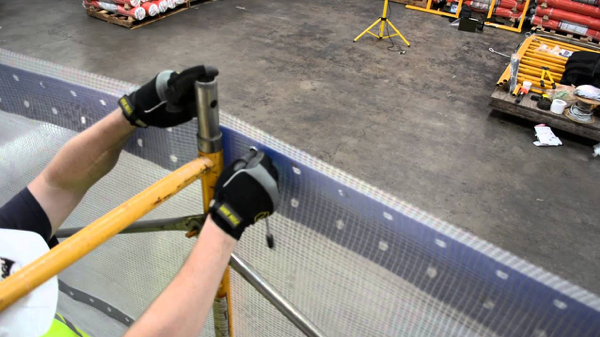 When we're out in the field, we see Scaf-lite used most in the following applications:
• Protective Scaffolding enclosure
• Building wrap
• Total weather protection
• Abatement enclosures
• Environmental containment
• Temporary heating enclosure
• Restoration and new construction enclosures
• Demolition, dust & debris control
When it comes to Scaf-lite, we highly recommend Eagle Industries products. It's cost-effective to keep your job site going through all conditions and preparing each site with the proper products. Use code EAGLE to get 10% off your first order of Scaf-lite!
---