What's Cheaper Than Dirt?
By Marcus Kirkwood
What's cheaper than dirt? Geofoam. Especially if the dirt you need must meet a certain grade, compaction or finish in an area that can be difficult to reach. Expanded Polystyrene (EPS) is most commonly known for its insulative purposes. It can be found on nearly every commercial and residential job site in some form or another. Geofoam is the same material, cut to different shapes with a different purpose.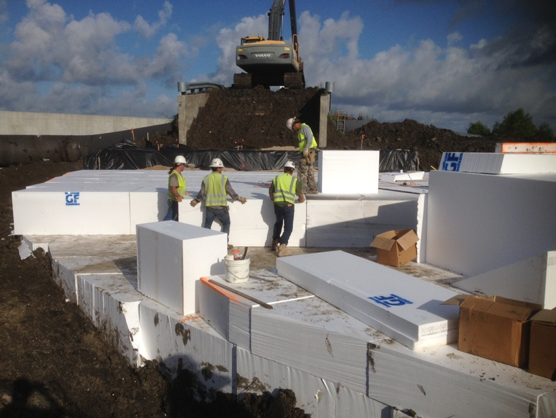 Is geofoam durable enough for heavy construction?
Although it is lightweight, approximately 0.7 to 2.85 lbs/cu ft, depending on the product type, compared to 110 to 120 lbs/cu ft for soil, geofoam has better bearing capacity than most foundation soils. The material's compressive resistance ranges from about 317 to 2,678 lbs/sq. ft. at a 1 percent strain. As long as combined dead/live loads do not exceed 1 percent strain, the material will not creep or experience plastic yield.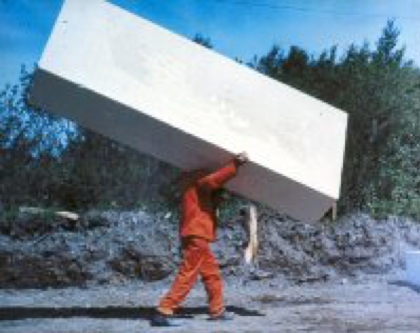 Where can you use geofoam?
Geofoam provides a fast and simple way to create tiered seating for stadiums, amphitheaters, gymnasiums, auditoriums, and other settings that require similar seating arrangements. For such stadium-style seating, crews are able to forgo heavy equipment and hand-place geofoam blocks to achieve the necessary profile. Crews can then either place concrete over the geofoam as shotcrete or as pre-cast panels. Using geofoam greatly simplifies the forming process and eliminates the need for complex tiered soil compacting to form the stepped profile of stadium seating.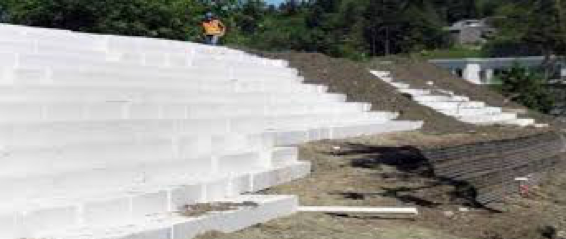 Geofoam is so lightweight and load bearing, its uses are almost endless for any area that requires backfill. It is often found under pools/pool decks, as backfill under bridge supports and can be frequently be found in unique design arrangements for patios and other outdoor areas. For any concrete contractor, it is a dream as it can be used as both fill and one side of the form.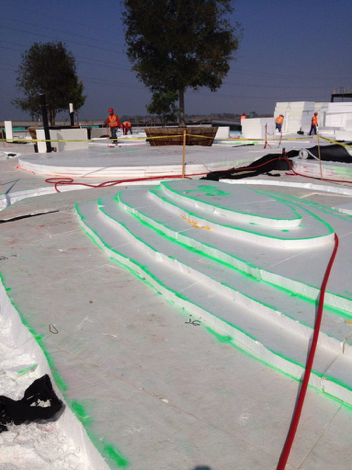 Is it really that much better?
Geofoam is approximately 1% of the weight of soil and less than 10% the weight of other lightweight fill alternatives. As a lightweight fill, EPS geofoam reduces the loads imposed on adjacent and underlying soils and structures. Utilizing Geofoam benefits construction schedules and lowers the overall cost of construction due to its ease of handling during construction. Geofoam can be easily cut and shaped on a project site, which further reduces job site challenges.
At Outpost, we prefer using Insulfoam for all of our custom job creations. Manufactured in Denver and shipped to your job site, you won't find a more versatile, cost-sensitive solution for many of your insulation or geofoam needs. Contact us after checking out our page 'here' and don't forget to use code 'lightweight' for 10% off your first geofoam order up to $2,000.
---