Bosch HEPA Vacuum
By Holly Kirkwood & Joe Kirkwood
Let's talk vacuums! Not just any vacuum, the Bosch HEPA Vacuum (no I did not sneeze). This vacuum is specifically designed to comply with the OSHA silica dust containment law enforced in June of 2017. Why is that important? To protect your workers who are likely exposed to respirable crystalline silica dust. Workers performing tasks such as cutting or grinding concrete, without proper equipment, have an increased risk of developing serious silica-related diseases, including lung cancer. So, you could say having the proper silica dust containment equipment in place is kind of a big deal.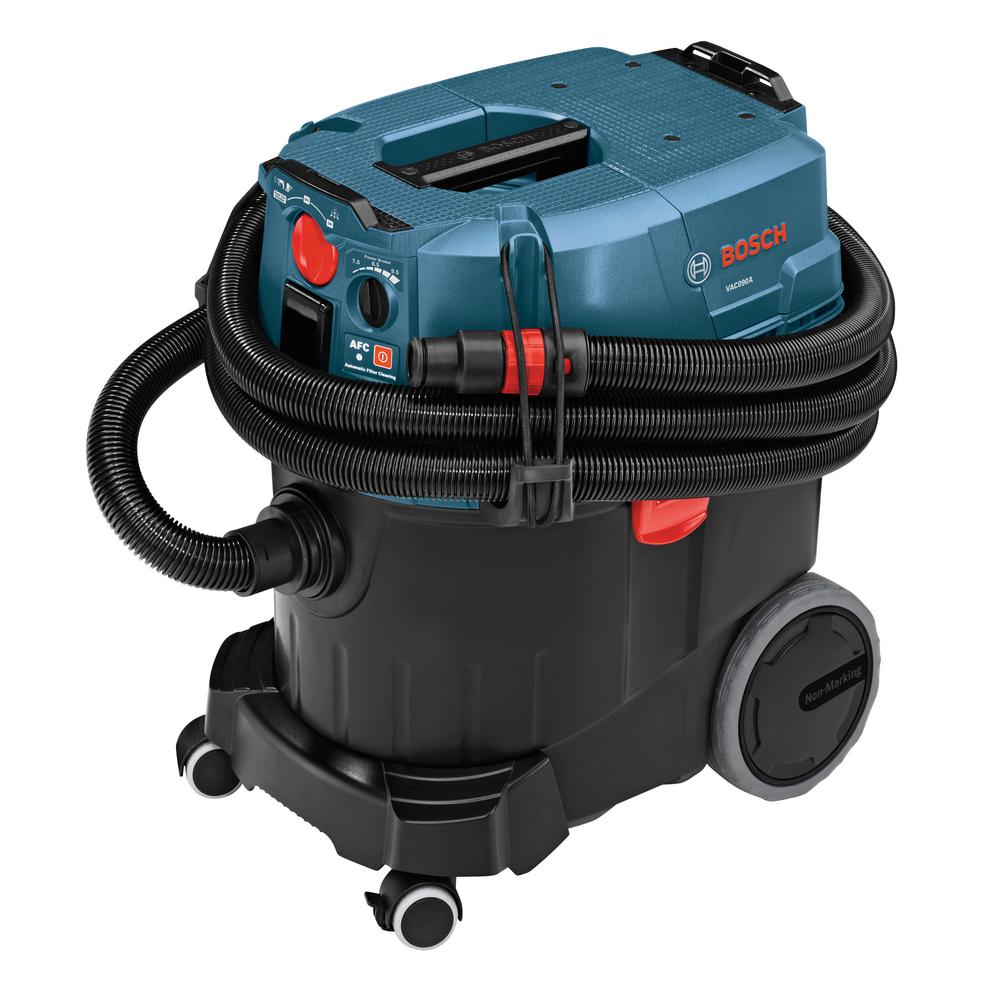 The Bosch HEPA Vacuum is one of the leading vacuums in silica dust containment. "HEPA" stands for high-efficiency particulate air (medicinenet.com), thus a HEPA filter is a fine mesh filter that stops such small particles from polluting the air. Contractors can choose between a 9-gallon or 14-gallon vacuum depending on the size of the job and ability to empty the vacuum. Hepa Vacuums come with a 10' vacuum hose, power tool adapter, bend nozzle, hose-nozzle interface, cellulose flat filter, and a plastic bag.
At Outpost, we specifically chose this particular vacuum for silica dust containment because of its 150 CFM air flow. OSHA requires, at a minimum, vacuums be at 140 CFM. We believe that silica dust's potential for life-changing damage is so great, it's best to go above the minimum requirement. Bosch also offers a fleece bag that can be placed inside the plastic canister. The fleece causes the dust to stick and stay so that no one has to come in contact with the dust when cleaning. The vacuum can be used as a wet/dry vacuum so projects that need water while cutting are grinding are not eliminated. The vacuum has a water sensor so that the motor will shut off when the water reaches a certain level to protect itself.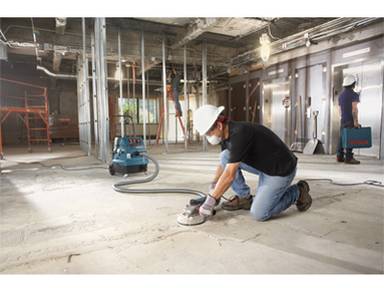 Bosch designed this vacuum so that it can be attached to power tools such as SDS Max and SDS Plus drills. The vacuum is powered on and off by the trigger on your power tools, making your job or project easy and clean!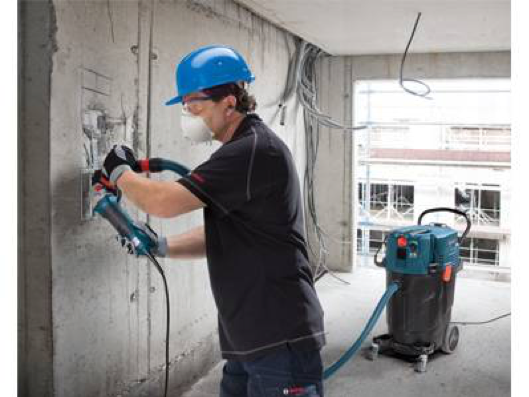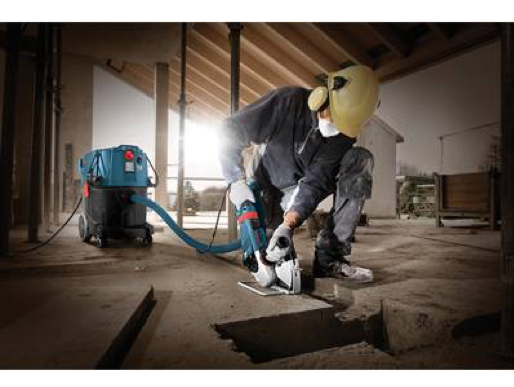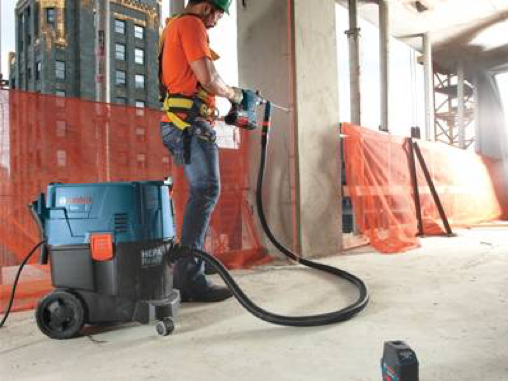 You may have read our recent article about the Silica Slayer and thought, "don't these have similar functions?" Yes and no. So, why use a HEPA vacuum over a Silica Slayer, you ask? The answer is, you don't. While they seem like they function the same or have the same outcome, there are some significant differences. The Silica Slayer is used in conjunction with demo saws and for spraying water or chemicals. Its quick connect feature and battery powered motor make cutting with a demo saw a snap and go, one-man job. The HEPA vacuum is used for all other power tools involving cutting and grinding. The Bosch HEPA vacuum is the best option for controlling and eliminating silica dust for all of your projects and job sites.
Check out our latest sale on Bosch products (including the HEPA vacuum)!
Citation: 
"VAC090S 9-Gallon Dust Extractor with Semi-Automatic Filter Clean." VAC090S | 9-Gallon Dust Extractor with Semi-Automatic Filter Clean | Bosch Power Tools, www.boschtools.com/us/en/boschtools-ocs/dust-extractors-vac090s-50719-p/.
Photos: https://www.boschtools.com/us/en/boschtools-ocs/dust-extractors-vac090s-50719-p/
---