Justrite Safety Cans
By Callen Stone
On any job site, compliance can be a four-letter word. It feels like most of your time is spent making sure every tie off, erosion log and fluid is meeting regulations instead of doing what you signed up: building things. The more you can take off your plate in the world of compliance, the better. Make life simple where you can. Use Justrite.
Justrite Safety Cans are great for storing flammable, hazardous liquids. They meet NFPA and OSHA regulation standards. We stock red and yellow Justrite Safety Cans Type I and 2 – that you'll see below - in 1, 2, and 5-gallon containers. Red for gas, yellow for diesel. These cans:
• Contain hazardous liquids
• Comply with federal OSHA regulations, as well as state and local fire codes
• Make your life easier; bettering storing and pouring
By containing hazardous liquids, you are controlling vapors which reduces the risk of fires. According to Justrite:

Justrite Safety Cans are designed to eliminate the elements that are needed to start a fire: heat, oxygen, and/or fuel. They design their cans with the following elements to prevent that lethal combination:
• Dual Density Flame Arrester (Heat)
• Spring-Loaded, Self-Closing Lid (Heat, Fuel)
• Leak tight Gasketed Lid (Fuel, Oxygen)
Check on the purposes of each design element in the following illustration: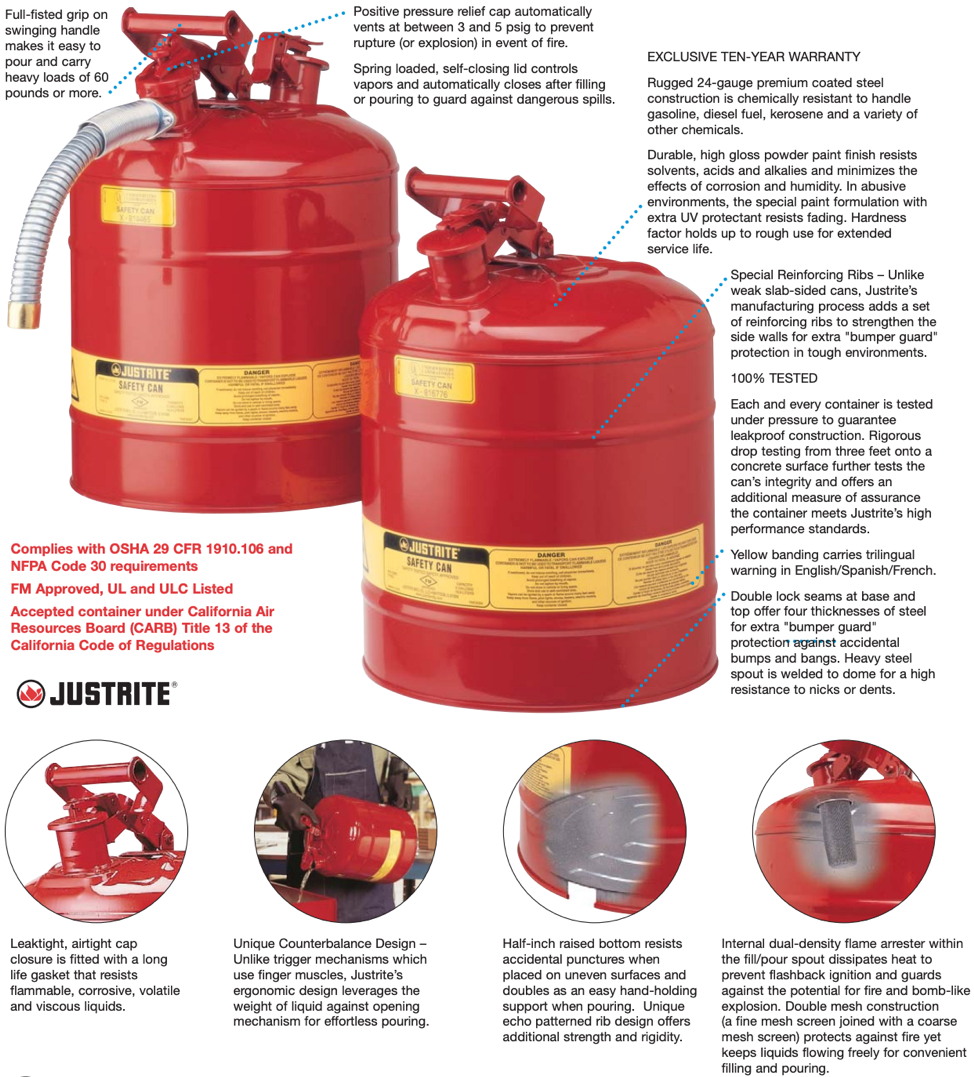 Justrite Type I Safety Can
Justrite cans have been tested and proven to be 100% leakproof. Each of these cans have a self-closing lid and are made from a high-grade coated steel. They also make a plastic funnel that can be added to your can to improve accuracy when pouring.
Justrite Type II AccuFlow Steel Safety Can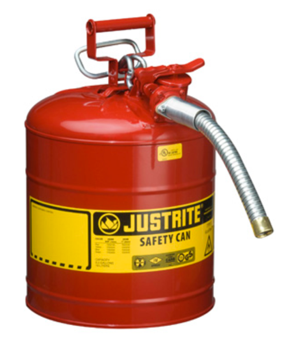 This can come with a metal hose, so no need for the plastic funnel. The way this can is designed allows you to have a smooth, controlled pour – thanks to the AccuFlow and Safe-Squeeze trigger.
Thank You!
Please do not hesitate to contact us with any questions you may have pertaining to Justrite Safety Cans, as well as any other item you may find on our website. We are always ready to answer questions and to help you in any way that we can!
---